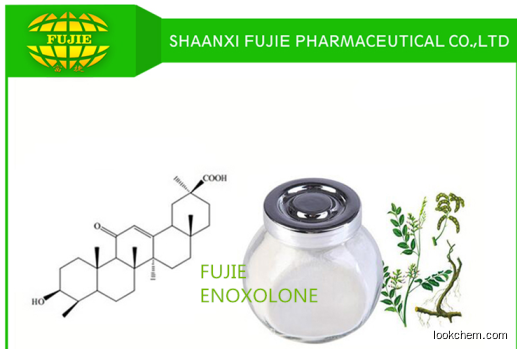 Reliable quality of on hot selling Enoxolone 471-53-4 global trader CAS NO.471-53-4
MSDS/COA Download

FOB Price: USD 400 /Kilogram Get Latest Price
Min.Order: 20 Kilogram
Payment Terms: T/T
Available Specifications:

Pharm grade(20-100)KilogramPharm grade(100-500)Kilogramcometics grade(20-100)Kilogramcometics grade(100-500)Kilogram

Keywords
Reliable quality of Enoxolone 471-53-4
global trader Enoxolone 471-53-4
Enoxolone 471-53-4 on hot selling
Quick Details
ProName: Reliable quality of on hot selling En...
CasNo: 471-53-4
Molecular Formula: C30H46O4
Appearance: White or almost white crystalline powd...
Application: An anti-inflammatory (topical). antit...
DeliveryTime: 30days
PackAge: 500g/bag,10kg/drum
Port: Tianjin or Shanghai
ProductionCapacity: 10 Metric Ton/Year
Purity: 98.0%-101.0%(dried substance)
Storage: Store in sealed containers at cool & d...
Transportation: by Air or by sea
LimitNum: 20 Kilogram
Total impurity: ≤2.0%
Any impurity: ≤0.7%
Heavl Metal: ≤10ppm
Sulphated Ash: ≤0.2%
Rotation :: +145° - +154°
Melting point:: 288-297℃
Superiority
【annual production】The annual production capability of the factory can reach to fifty tons.
【superiority】
1.we are manufacture and our production workshop had passed China GMP.
2.we can give you lowest price and best quality,only you can choose us.
3.Our government stipulates that licorice quota system is adopted for the export of licorice products, and our company has sufficient licorice quota every year.
4.We are only have Enoxolone GMP certification in china
5.we have Enoxolone DMF file
Reliable quality of on hot selling Enoxolone 471-53-4 global trader
Enoxolone Basic information
Product Name:
Enoxolone
Synonyms:
3.beta.-Hydroxy-11-oxo-12-oleanen-30-oicacid;3-beta-hydroxy-11-oxo-olean-12-en-30-oicaci;3-beta-hydroxy-11-oxoolean-12-en-30-oicacid;3-hydroxy-11-oxo-,(3.beta.,20.beta.)-Olean-12-en-29-oicacid;3-hydroxy-11-oxo-,(3beta,20beta)-olean-12-en-29-oicaci;3-Hydroxy-11-oxo-12-oleanen-30-oicacid;3BETA-HYDROXY-11-OXO-18BETA, 20BETA-OLEAN-12-EN-29-OIC ACID;3BETA-HYDROXY-11-OXO-18BETA-OLEAN-12-EN-30-OIC ACID
CAS:
471-53-4
MF:
C30H46O4
MW:
470.68
EINECS:
207-444-6
Product Categories:
Pentacyclic Triterpenes;Tri-Terpenoids;Inhibitors;Cosmetic Ingredients & Chemicals;Chiral Reagents;Heterocycles;-;Miscellaneous;Biochemistry;Terpenes;Terpenes (Others);Natural Plant Extract;Intermediates & Fine Chemicals;Pharmaceuticals
Mol File:
471-53-4.mol
Enoxolone Chemical Properties
| | |
| --- | --- |
| Melting point | 292-295 °C(lit.) |
| alpha | 165 º (c=1, CHCl3,on dry ba) |
| Boiling point | 492.11°C (rough estimate) |
| density | 0.9967 (rough estimate) |
| refractive index | 162 ° (C=1, MeOH) |
| solubility | Practically insoluble in water, soluble in ethanol, sparingly soluble in methylene chloride. |
| pka | pKa 5.56±0.1 (Uncertain) |
| form | Crystalline Powder |
| color | White to off-white |
| optical activity | [α]22/D +170.0°, c = 1 in chloroform |
| Water Solubility | SOLUBLE IN ACETIC ACID |
| Merck | 14,3590 |
| BRN | 2229654 |
| CAS DataBase Reference | 471-53-4(CAS DataBase Reference) |
| EPA Substance Registry System | Olean-12-en-29-oic acid, 3-hydroxy-11-oxo-, (3.beta.,20.beta.)-(471-53-4) |
Enoxolone Usage And Synthesis
Chemical Properties white or greyish-white crystalline powder
Uses An anti-inflammatory (topical).
Uses antitussive, antiinflammatory, antibacterial
Uses The aglycone of the triterpenoid Glyccyrrhizic acid.
Uses glycyrrhetinic acid is anti-irritant, anti-allergenic, anti-inflammatory, skin-lightening, and smoothing properties are attributed to this ingredient, which is also a carrier. It is the organic compound derived from glycyrrhizic acid or shredded licorice roots.
Definition ChEBI: A pentacyclic triterpenoid that is olean-12-ene substituted by a hydroxy group at position 3, an oxo group at position 11 and a carboxy group at position 30.
Anticancer Research Glycyrrhetinic acid in combinationwith etoposide inhibits thetopoisomerase 2α and inducesapoptosis
Cai et al.(2017)
Anticancer Research It was reported that GA at noncytotoxic concentrationshowed synergistic effect in combination with anticancer drug, etoposide (VP-16).Specifically, GA enhanced cytotoxicity through regulating topoisomerase II-αtargeted by etoposide. Also, GA sensitized the cells to etoposide through elevatingtopoisomerase II-α with a 2.4-fold rate at 12 h time point. From 12 to 48 h, GAhalved the expression of topoisomerase II-α and stimulated apoptosis, whichexhibited its antineoplastic effect. They reported that GA was more potentiallyeliminating the TNBC cells when compared with Glycyrrhizin Acid (Cai et al. 2017).
Details
Pionnier of Licorice Extract industry in China, Shaanxi Fujie Pharmaceutical co.,ltd has more than 25 years experience in the sector of licorice root extraction and provides high quality products to diverse industries.
As an highly effeicient ingredient, licorice extract are widely used in pharmaceutical, food, cosmetic, tobacco, dietary and healthy supplementproducts.
Today our main products are:
Glycyrrhizic acid-based produts:
Enoxolone(18β-Glycyrrhetinic Acid)

Ammonium Glycyrrhizinate (MAG)

Glycyrrhizic acid A

Dipotassium Glycyrrhizinate (DPG)
Potassium Glycyrrhizinate

Tripotassium Glycyrrhizinate (TPG)
Licorice extract powder

Licorice liquid extract

Licorice extract spray

licorice extract

Deglycyrrhizinised Liquorice Extract

Licorirce extract block
Our products are certified by GMP, FSSC 22000, ISO 22000 in China and are registed in FDA in the U.S.
We have built solid relationships with customers in China, Japan, Korea, North American and Europ and are always open for new international business opprtunities.
Enoxolone is a pentacyclic triterpenoid derivative of the beta-amyrin type obtained from the hydrolysis of glycyrrhizic acid, which was obtained from the herb liquorice. It is used in flavoring and it masks the bitter taste of drugs like aloe and quinine. It is effective in the treatment of peptic ulcer and also has expectorant (antitussive) properties. It has some additional pharmacological properties including antiviral, antifungal, antiprotozoal, and antibacterial activities.
Enoxolone is an oleanolic acid from Glycyrrhiza that has some antiallergic, antibacterial, and antiviral properties. It is used topically for allergic or infectious skin inflammation and orally for its aldosterone effects in electrolyte regulation.
Basic Info
· Product Name: Enoxolone
· Resource: 100% licorice roots
· Raw Material: licorices
· Certificate: GMP
· Shelf Life:24 moths
· Transport Package: All Paper Drum
· Origin: Shaanxi , China
· Appearance: White or almost white crystalline powder.
· HS Code: 2938909030
Content: 98.0 per cent to 101.0 per cent (dried substance)
· Trademark: FUJIE
· Specification: 10KG/drum
· Molecular formula:C30H46O4
· Molecular weight:470.7
· CAS NO:471-53-4
· Action and use:Treatment of benign peptic ulcer disease
Grade:European Pharmacopoeia 9.0
structural formula
Solubility:Practically insoluble in water, soluble in ethanol, sparingly soluble in methylene chloride.It shows polymorphism .